Reiner Hackbarth Kunststoffverarbeitung GmbH
Your specialist for sales packaging and flexible packaging of all kinds made of PE and PP films
With the experience gained over more than 50 years, the family business Reiner Hackbarth Kunststoffverarbeitung GmbH produces sales packaging made of polyethylene and polypropylene films. With the highest standards of quality and service, we have grown and become one of the leading suppliers in the production of promotional carrying and hanging packaging made of flexible films.
With a range that includes high-quality carrier bags, block-bottom bags, adhesive bags and pressure seal bags – our production programme is diverse and tailored to meet the wishes of our customers. Manufacturers from the bedding sector, for example, make use of our range of carrier bags and pouches. They need sales packaging for packaged goods that have a large volume. Suppliers of self-service department stores like to use hanging solutions for home and household textiles. Our hook bags and carrier bags with single or double hangers are particularly suitable for this.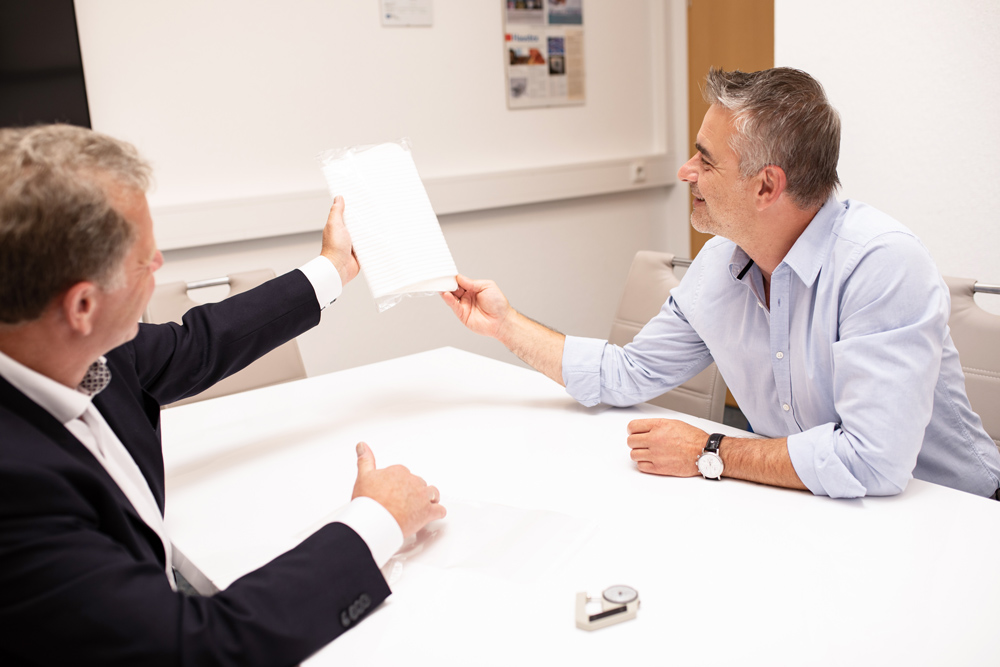 We manufacture all of our goods in-house at the Wiehl-Drabenderhöhe site. This means that we can guarantee the highest quality and flexibility. Our customers receive the packaging they want in between one and ten colours using flexographic printing. This enables them to integrate information specific to their products. We also produce small runs of our bags and pouches.
Fast availability, market-driven prices and individual samples are a matter of course for us. Our customers receive their film packaging on schedule and in short delivery times. Thanks to our large warehouse at our company headquarters in Drabenderhöhe, we also offer longer-term arrangements for call-off orders.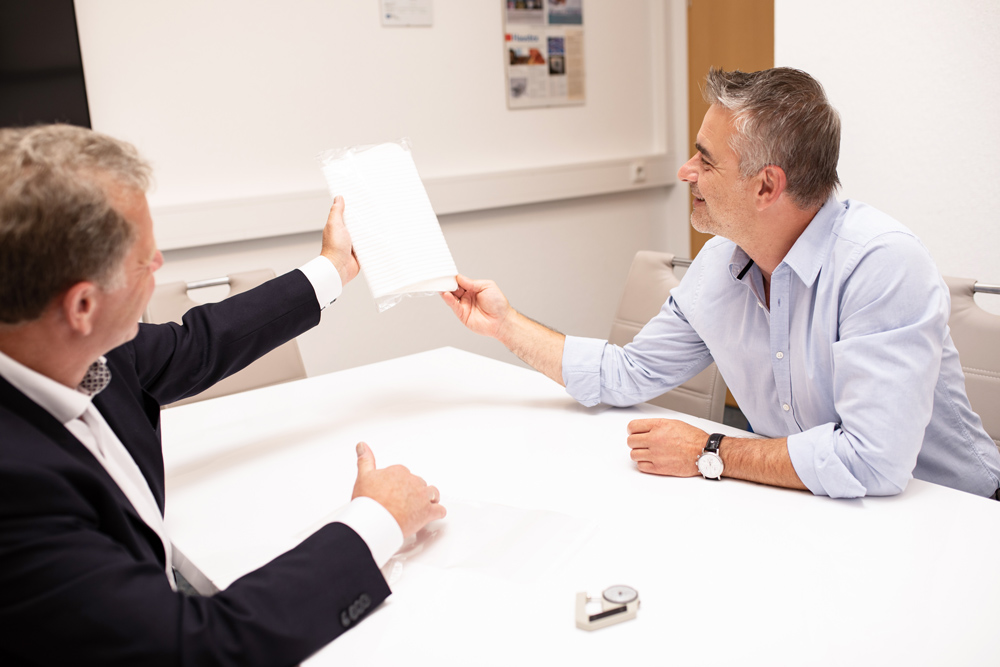 Tailor-made, flexible and environmentally neutral: these are the guiding principles for providing our customers with exactly the packaging they need. To achieve this, we attach a great deal of importance to consistently high quality standards and guarantee industrial customers full security of supply. We support our customers with advice in all of their decisions and questions. And we are aware of our responsibility in terms of environmentally-friendly production.
your contact persons
We are here for you
Certification in line with DIN EN ISO 9001:2015
We rely on packaging made of high-quality flexible films
Quality management plays a very important role for us. We attach a great deal of importance to a low rate of complaints or defects. This means that we are continuously working on improving our processes. And with some success: We received the first certification in 2012 and were able to extend it in April 2018 to include the ISO 9001:2015 certification standard. The annually recurring audits by the TÜV also confirm our high standard of quality in our products and services.